Introducing Shanling M2X
Soon it will be 1 year since we revealed Shanling M0. Flagship Shanling M5s was announced just 6 months ago. Now it's time to fill the gap between them with a new mid-tier player. And what could be a better fit than third generation of popular M2 model?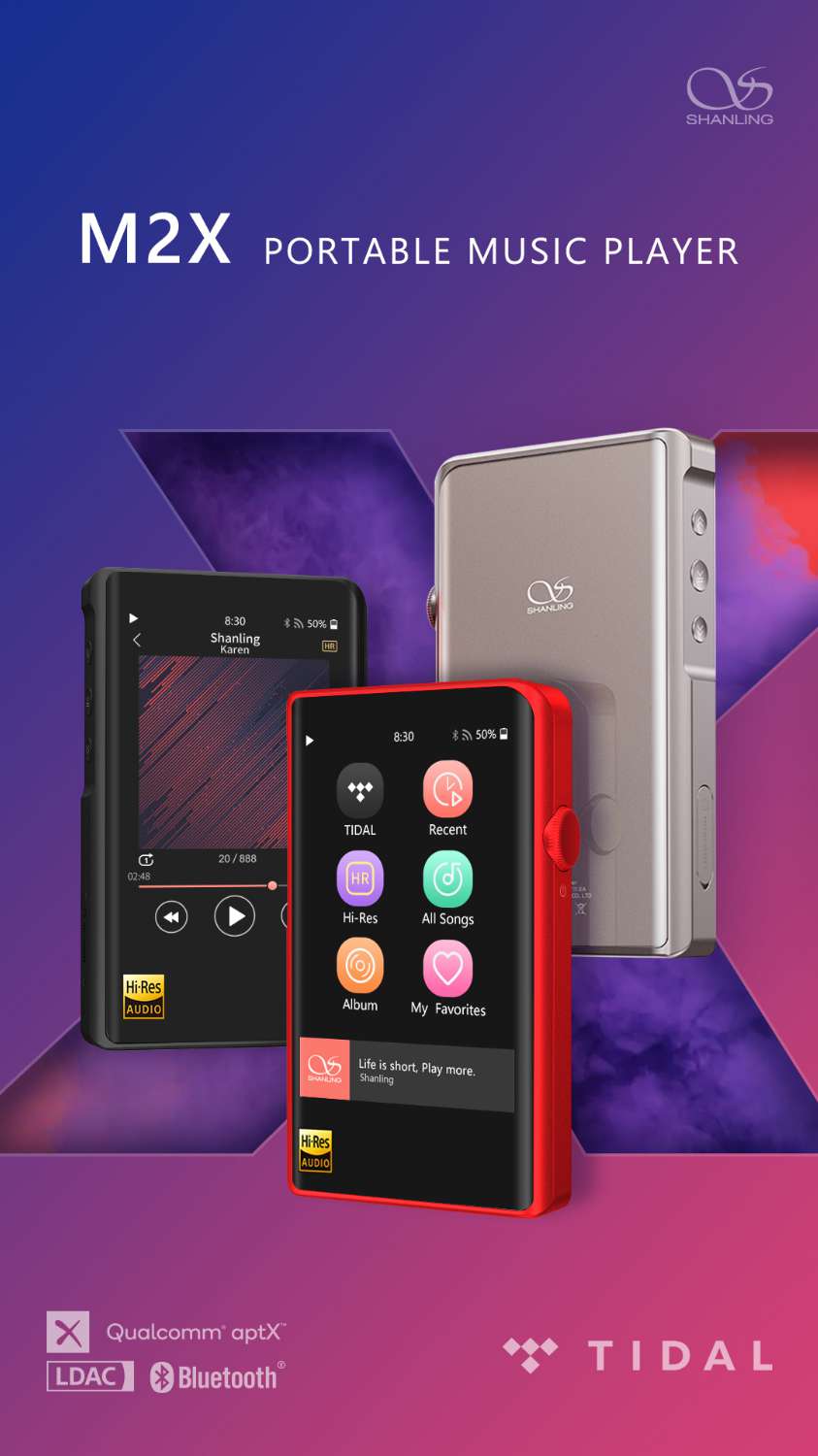 Shanling M2X is smaller brother of our current flagship Shanling M5s. Same beautiful design, MTouch system and rich feature list. And while M5s stays as our top model thanks to its superior sound quality, M2X will be tempting alternative for anybody looking for slightly smaller and cheaper player.
Shanling M2X will come with few new features:
- Tidal support – For never-ending streaming of music (ONLINE mode only)
- USB Bluetooth transmitter – For high quality wireless sound from any computer
- Advanced USB output – For use with any external USB DAC, now including compatibility with DLNA, Airplay and Bluetooth receiver modes
Availability:
Shanling M2X will go firstly on sale in mainland China during March and we expect international release to follow shortly after that.
Price:
MSRP 219 USD // 219 Euro
Other features:
- MTouch 2.0 system
- Bluetooth 4.2, two-way connection
- LDAC, AAC, apt-X, SBC support
- 2.5 mm balanced and 3.5 mm single-ended output
- USB DAC function
- DLNA & Airplay support
- OTA upgrades
- 3.2 inch touch screen
- Single micro SD card slot
Specification:
Audio Circuit:
- single AKM AK4490EN DAC
- single TI OPA1612 acting as the low-pass filter
- dual AD8397 amplifier
Dimensions: 98 x 60 x 16 mm
Weight: 147 g
Battery:

- 2400 mAh, fully charged in 2.5 hour
- 10.5 hours of playback in Single ended mode
- 7.5 hours of playback in Balanced mode
Hi-Res sound support:
- PCM up to 32bit/384kHz, DSD up to DSD256
Audio output Single ended (3.5 mm jack):
- Output power 180 mW @ 16 Ohm / 106 mW @ 32 Ohm
- SNR 117 dB (A-weighting)
- Output impedance 1 Ohm
- Channel separation 70 dB (32 Ohm)
Audio output Balanced (2.5 mm jack):
- Output power 212 mW @ 16 Ohm / 120 mW @ 32 Ohm
- SNR 116 dB (A-weighting)
- Output impedance 2 Ohm
- Channel separation 107 dB (32 Ohm)